Posted March 31, 2017
Person of the Crowd: The Contemporary Art of Flânerie
February 25–May 22, 2017
Virgil Marti's "Doppelgänger" (2017) is included in Person of the Crowd: The Contemporary Art of Flânerie, currently on view at the Barnes Foundation, Philadelphia.
For this exhibition, Marti has created two identical "poufs". One will remain stationed in the Barnes Collection Gallery for the duration of the exhibition, while its "twin" travels to four indoor and outdoor locations across the city of Philadelphia.
Taller Puertorriqueño
February 28–March 20
Smith Memorial Playground
March 21–April 12
Shofuso Japanese House and Garden
April 13–May 1
Laurel Hill Cemetery
May 2–22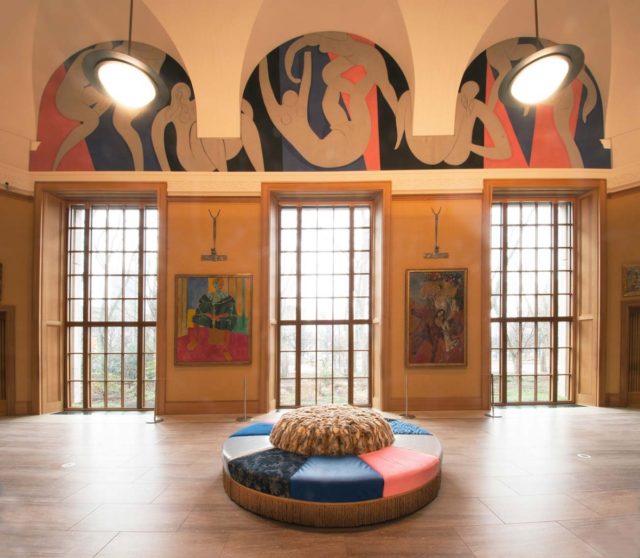 ---
Posted June 11, 2013
MATRIX 167
AUGUST 1, 2013 – JANUARY 5, 2014
Exhibition brochure
The Making of MATRIX 167
Virgil Marti was recently invited to participate in the MATRIX series of exhibitions presented by the Wadsworth Atheneum in Hartford, CT. For his MATRIX exhibition, Marti will employ both approaches in an installation featuring new work inspired by various objects in the Wadsworth's collection, including Hudson River School paintings, Charter Oak furniture, and the fused metal revolver parts from the Colt Armory fire of 1864. The installation will also showcase the museum's nineteenth-century Death Mask of John Keats.
For twenty years, the artist's sculpture and textile-based installations have engaged with high and low culture, in particular, with the ornamental excesses of interior design, including Venetian and hunting lodge chandeliers, faux-fur and chintz ottomans, and flocked black-light wallpaper. Recently, Marti took on a curatorial project. He mined the collections of the Philadelphia Museum of Art and restaged them in inventive juxtapositions for the exhibition Set Pieces at the Institute of Contemporary Art in Philadelphia.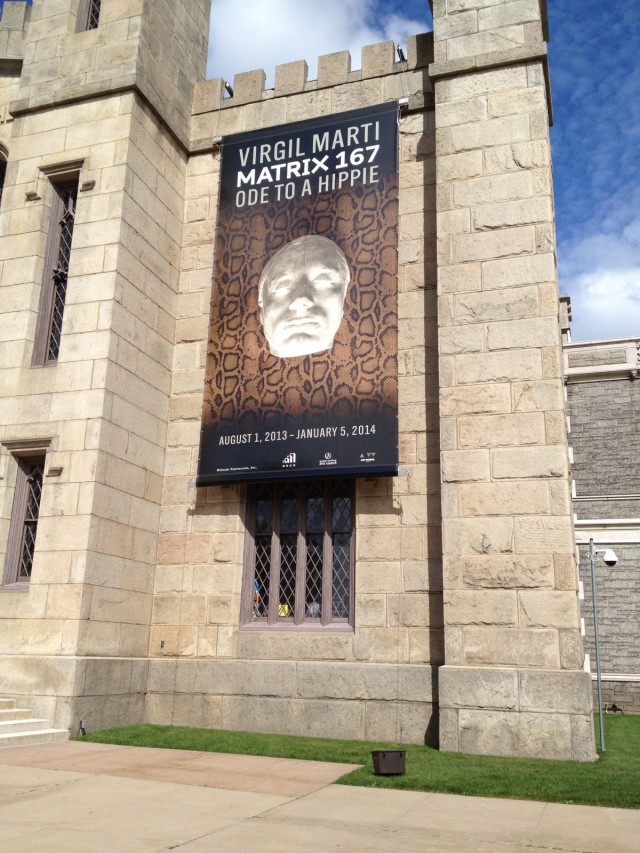 Photo: Allen Phillips
---
Posted June 1, 2013
Five Standards (Dazzle)
Virgil Marti's first large-scale outdoor sculpture is now installed in the Philadelphia Navy Yard. This sculpture will be on permanent view in front of the GlaxoSmithKline headquarters building.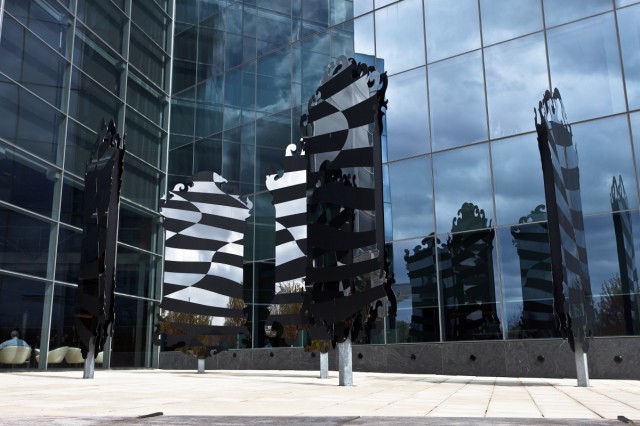 Photo: Steve Weinik
---